FRIDAY MIXED MEDIA IN OJAI



Acrylic Painting and Mixed Media
Sessions include technical, aesthetic or historically related topics. When specific painting and or mixed media exercises are offered, they are optional. Participants work on their own painting projects in a supportive and encouraging environment with lots of individual attention. Begin a new painting or bring in something unfinished that you may want input on.
Every Friday from 9 a.m. – 12 p.m.
Ongoing

for more information email me
WORKSHOPS IN OJAI
Mixed Media Art Classes and Workshops in Ojai
Choose your own date:
9:30 a.m. – 4:30 p.m.  –  Ojai Mixed Media Workshop

Mixed Media Art classes and workshops take place in my relaxed and inspiring hillside studio in Ojai, California. For those of you who know Ojai, you'll know what I mean when I say the Chief will be watching over you while you work. For those of you who don't know what that means… This is Chief Peak and you can see him from my studio…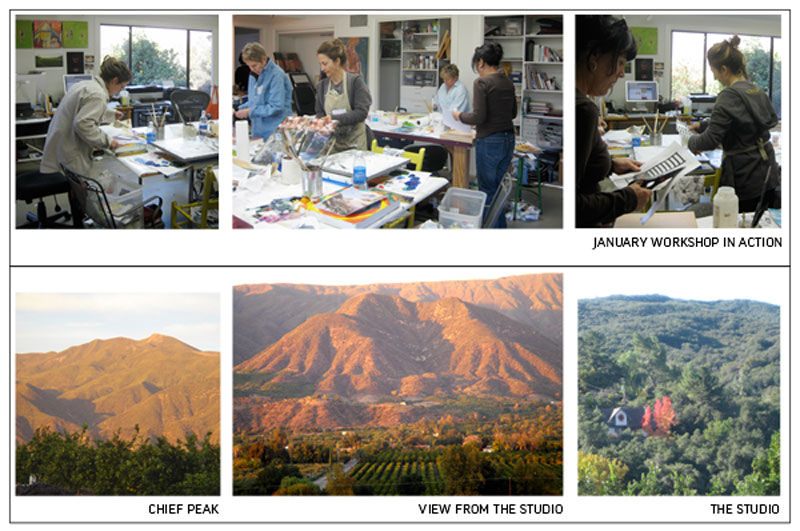 What You'll Do
Mixed Media is an exciting process! You'll work with acrylic paint, oil pastels and paper on canvas, exploring many different techniques for creating texture and composition with paint and collage. You'll be exposed to different methods of adhering materials together as well as varied ways to transfer previously printed imagery to your piece. Image transfers work very well with both painting and collage elements. Painting experience is not essential.
Who Would Love This Class
My students have ranged from the completely inexperienced – people who have always wanted to pick up a paint brush but were afraid to try, to the very experienced – artists of all mediums wanting to explore something new. If you have little or no experience you'll find art-making a process not to be fearful of! If you are a seasoned artist you will be exposed to new methods, ideas and philosophies.
I have heard these descriptions of my classes… "relaxing, refreshing, inspiring, exciting and invigorating!"
Other Reasons To Take This Class (That You May Not Have Thought Of)
ART PARTY – birthdays, anniversaries, family reunions, friends reunion  •  HOLIDAY PARTY – your office has done the office xmas party so many times in so many ways…but not like this!  •  TEAM-BUILDING – a great way to help your team get out of their box and look at things in a fresh, new way  •  TRANSITIONS – illness, relationships, life changes – art is a great stress reliever  •  TIME OFF – sometimes you just need to play hooky from your normal routine.
The Details
Class size –  minimum 4 / maximum 8
1/2 day class  (3 hours) •  full day class  (6 hours) •  2 day workshop  (12 hours)
Your day will begin with demonstrations and warm up exercises. You'll get lots of individual attention as you work on your piece for the rest of the day, ending with a positive critique, a few handouts and a finished piece to go home with. Many materials are included and you may want to bring some of your own for personal inspiration. More detailed information about materials, lunch options, directions, and anything else you can think of will be available when making your inquiry.
email amyschneider@ojaimail.net for info
"Amy's classes provided a venue for tremendous creative expression. She opens the doors to art techniques that are both complex and beautiful. As an instructor, she has the ability to communicate effectively with all levels of art understanding from beginner to advanced, I found her classes inspirational and fun. As a teacher, she is encouraging and patient, thoughtful and enthusiastic. I would highly recommend her classes to everyone, but since her time is limited, I pretty much keep her as my own special secret."
Barbara Brown – Principal – BBM&D Strategic Branding – Ventura, CA
"I had such a fun day! I'll take your workshops any time. I think you are really getting me over my art phobia! More than any other teacher, I think you get it, ART should be fun. Too many of us take it far too seriously." See you next Sunday! I can't wait. Ginny
"Your encouragement and attention in class helped me to get more comfortable with the creative process (plus all of the transfers & techniques were super cool!) I wanted you to know that working with you has made a big difference in helping me move to a new stage in my artistic development while rediscovering true joy in painting!  Thank You!" Until next time,  Holly